Paramedics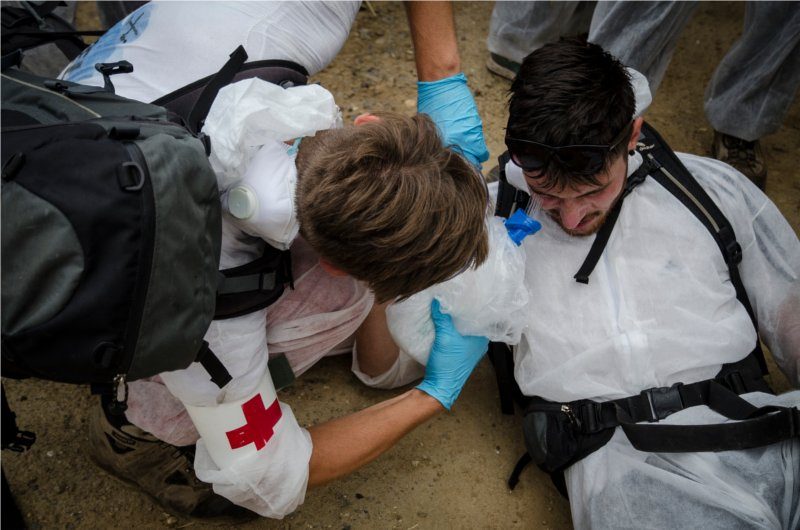 Dear Activists,
in recent years Ende Gelände has been graciously supported by competent paramedics, whose goal is to accompany activists at the protests and actions, and, if necessary, to provide first aid.
The paramedics have always been in solidarity with the content and mission of the protest and see themselves as a part of it. Generally speaking, they are "passive" accomplices and not service providers or part of governmental organizations.
They see themselves as a part of anti-repressive structures and will never take your personal information or testify against anyone. Especially the protection from subsequent repression, following the protests, is one of the highest priorities. The paramedics will therefore not collect, distribute, or pass-on any data that could result in the identification of a person or their actions.
Exceptions are possible, specifically when it is about pressing criminal charges against police officers. For example: at the November 2017 demonstration, a police officer pushed a protester in front of a horse. In order to create public awareness and a debate about this incident, it was important to have eye-witnesses reporting on what happened – it was in this context that the paramedic team was called upon to provide a testimony. It is important that the initiative to bring about public debate and to prosecute the officer has to come from the person that is affected, and until this is the case no paramedic will testify or report on anything. Such a case, especially about pressing charges against a police officer, should always be thought and talked through with people who are experienced (the Legal Team helps with this!).
This year there will be autonomous medical structures again, which will be able to help with most of the injuries and illnesses that can occur. Cases that exceed the capacities of the paramedic team will be transferred to local doctors and hospitals.
The paramedics aim to provide the best care possible and patients are entitled to enjoy unbiased treatment, independent of, for example, gender and/or ethnicity.
Ambulance services will only be called in acute emergencies and, if possible, with the affected persons consent. This is an attempt to be as independent as possible from established (state) structures, who usually work with institutions of repression. Unfortunately, we cannot guarantee sensitive care of ambulance services, local hospitals and doctors. The terms of insurances require you to provide your full name at such institutions. Nonetheless, the health and well-being of all of us is the top priority!
Regrettably, our paramedics cannot be everywhere. Therefore: Please call the "official" emergency contact 112 in acute emergencies (for example: unconsciousness or difficulty with breathing)!
We recommend, for the greatest independence possible, that activists remain in groups at all times and part-take in a first-aid workshop. We are aiming to provide a workshop in October at the action, but you can also prepare yourself at home already. Furthermore, we ask activists to bring first-aid kits and (if necessary) your own medication. The content of the average vehicle emergency kid (without the scissors) has a great scope of supplies. Additionally, you should bring enough food, snacks, and reusable water bottles for the protests and actions. You should also be prepared to clean your, or someone else ́s, eyes from dust and pepperspray. Always consider your own physical and mental conditions and capacities, when deciding which particular action you will take part in. Remember, the safety of everyone is important. At the very least, please inform your group or one person in your group about your health related particularities – this can save lives in case of emergency.
Just a couple words about the structure of paramedics at protests – not only for Ende Gelände:
Most of us, but not everyone, will be in their medic uniform so everyone has the possibility to identify us, in case they need care. Unfortunately, it is not always possible to differentiate between the paramedics of our structure (acting like described in the Sani-Konsens ), the paramedics from the police, or who is a single individual doing their own thing.
Since some paramedics can represent a threat, we want to make sure that you know that we will not ever ask for your personal information (legal name, etc.) or ask you how your injury came about. We are only concerned about helping you medically. To protect yourself, the structures, and also us, do not share anything with us that goes beyond the medically necessary information. But please remain truthful about how you were injured, keep it vague and general though.
Check-list:
Do a first-aid training
Bring your first-aid kit
Brief your group about important medical conditions and who to contact in case of emergency
Do not hesitate to call 112 in cases of acute emergency!