The camp in Brunsbüttel will be full!
It's going to be huge! A lot of people have already arrived from different places, which is why the camp in Brunsbüttel is almost completely full.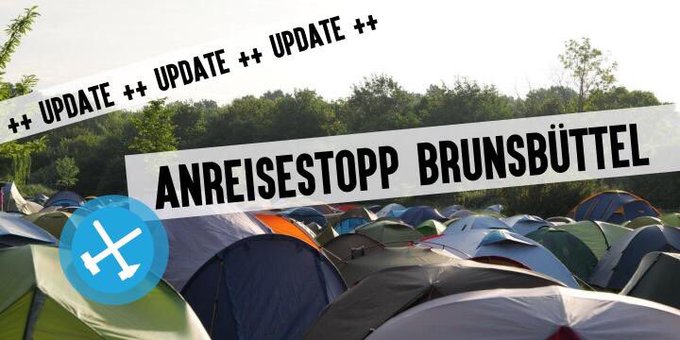 Dear activists,
We are really excited about the action, and a lot of people have already travelled here from different places. That's why the camp in Brunsbüttel is already almost full! Even if you have registered for Brunsbüttel, this is unfortunately no guarantee for a place on the camp . As the camp area is very small, we can only accommodate a maximum of 200 activists. And unfortunately you will not really be able to use the structures of the camp (toilets, info tents, plenums) – our hygiene concept is very sensible – and does not allow this. Please do not make your way to Brunsbüttel anymore!
For all those who are already on the road: from 2pm there will be a picket in Itzehoe with further information.
In Hamburg, too, there are only a few places left for @antikoloniale to sleep. Therefore, if possible, organise your own place to sleep in or around Hamburg . The place to go is still Café Knallhart (Von-Melle-Park 9).
Dates in Hamburg (today – Friday)
4 pm Action training. Meeting point Infopoint
6 pm  Finger training at "Neuer Pferdemarkt"
8 pm Deli/action plenary in Schanzenpark
9 pm Materials
Another possibility is to travel directly to the demo in Hamburg on Saturday 31.07 (12 o'clock, Neuwiedenthal stop) and rock an action with the Anti-Colonial Attack afterwards.
We will give you further updates here regularly – keep up to date on social media and on our website!
* * *