Désolé, cette page n'existe pas en français
A camp for everyone?!
News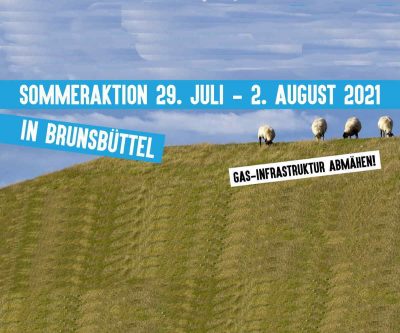 23. July 2021 La fin juillet approche avec notre action de résistance au terminal de Brunsbüttel ! Cette Newsletter vous apporte les (avant) dernières informations importantes. Nous vous informons sur les deux régions d'action envisagées, sur le trajet d'accès, sur l'inscription, sur le camp. Nous expliquons pourquoi il n'y aura plus de doigt multicolore et ajoutons des informations légales importantes. Plus ...
* * *
Our camp location is set! We are in the beautiful Bürgerpark, in the middle of Brunsbüttel.
Our camp will be set up in the Bürgerpark in the middle of Brunsbüttel! The entrance to the park is on Eddelaker Straße, corner of An der Sprante) and the nearest bus stop is called " Röntgenstraße ".
Camp capacity is limited! Please check here or on our social media channels before you leave to see if there is still space available, otherwise you might have to organise yourselves completely (and unfortunately you won't be able to use the strutcures on the camp because of the corona protection measures (space requirements, distance)!
Here you will find information on how to get there.
This year there is really no possibility to park cars or camper vans on or near the camp area. The nearest car parks (in ascending distance to the camp): Car park "Am Freizeitbad" south of the camp area (800 m), car park Bürgerbüro Brunsbüttel (Albert-Schweitzer-Straße) and the car park of the open-air swimming pool Ulitzhörn in Brunsbüttel. If you only want to park your car once and then don't need it for a few days, you can leave it at one of the car parks further away.
Food at the camp
There is a kitchen crew that will provide us with 3 vegan meals a day. If you have allergies or intolerances, please contact the kitchen at the camp. For breakfast the kitchen will provide hot porridge and hot drinks and only a very limited number of sandwiches. So please bring other breakfast treats with you. Unfortunately, for hygiene reasons, there will be no self-service at the camp this year. Lunch and dinner will be warm and delicious. There will also be the super tasty, nice "Crepes are beautiful", possibly pizza and a fine little kiosk. In Brunsbüttel itself you will also find plenty of shopping opportunities.
A camp for everyone?!
Organizing camps is an ongoing learning process for us as Camp AG: We are aware that the camp structures were not ideal for many people in the past. In preparation, we do our best to make the camp as barrier-free, discrimination-free and racism-sensitive as possible and to address specific needs.
As already announced in the newsletter, here is more detailed information about accessibility at the camp.
In exchange with different people and structures we have already planned some things that hopefully will enable more people to participate and feel comfortable at the camp. You can find this list below.
For everything concerning a racism-sensitive camp and connection possibilities for BIPoCs there will be information coming soon on the homepage
If there are additional needs or you have further comments, please contact us at camp.fuer.alle@ende-gelaende.org .
If you have any special needs for the action, please contact the Yellow Finger at barrierearm-in-die-aktion@ende-gelaende.org .
At the camp there will be…:
.
If you already know exactly that any of this is important to you, such as a charging station, feel free to let us know now so we can plan better 😊
We are looking forward to you and an action together!